It's taken me a while, but here I finally post the last of my hedgehog collection: All my Mrs Tiggy-winkles and Pindsvin - a very special Danish hedgie.
Mrs Tiggy-Winkle
The largest is a knitted one we found at a flea market. It's not the best workmanship, but she was rather cheap, so we bought her. She's actually grown on me the longer I've had her.
The second largest was originally bought for me by my mother. About 6 months later, one of my best school friends gave me the exact same one for my birthday. We phoned the shop where my mum had got mine from and they let us exchange her for another Beatrix Potter character. There wasn't much choice, but I came home with a sweet Goody Tiptoes. The one in the middle, was a another one my mum found to make up for her one having been replaced.
The Tiggy holding the number 5 was birthday present a few years ago. You may have seen her in one of the photos of my shelved hedgehogs in part 1. There's nothing significant about the number 5, it just happened to be what my parents found. If you look very closely, she is shaking hands with a little mouse.
The final ornament one was my graduation present in 2010 for my bachelors degree and lives in a display cabinet.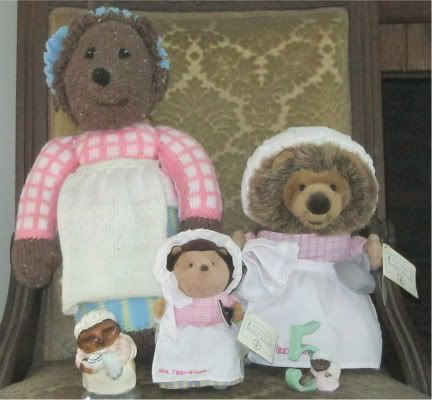 Pindsvin
This is one of my most special hedgehogs. My mother has a number of Royal Copenhagen (the Danish version of Royal Dalton) porcelain figurines, which she inherited from her Danish grandmother and mother. My parents had this hedgehog specially ordered from a supplier of RC for my 21s Birthday. I call it Pindsvin - the Danish name for "hedgehog".