1. Plushies
This is a picture of some of my "fluffy" hedgehogs, that sit on top of my desk shelves. The yellow one is a punk hedgehog named Spike and the one that looks like Mickey Mouse, guess what...Mickey!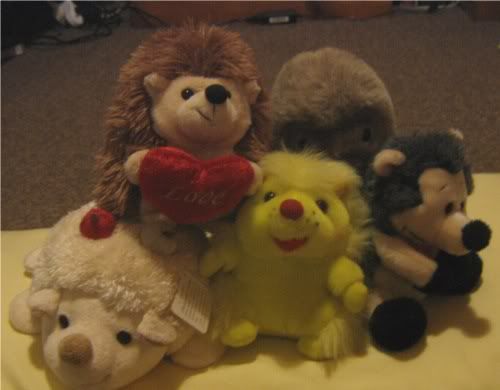 2. Home Made
These two I made myself. The one on the left was made from a kit (yes, she is in one of the previous photos). Her name is Hannatjie (diminutive of Hannah - which was the name she came with, but I already had a hedgehog with that name). The one on the left is completely knitted with a pattern my cousin bought me. She's called Elle, after the brand of wool I used.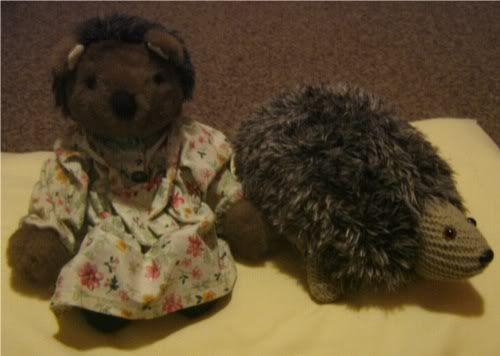 3. My bookshelf
Firstly, book ends, a door stop and some others. The mottled one on the left is made with wire and beads - a traditional South African souvenir (though hedgehog wire animals are rare).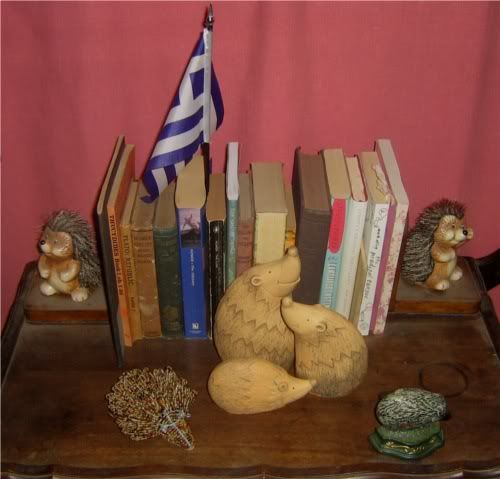 4. Normous, Tween and Nute
These three have an interesting story. My mother ordered them for me as presents over the telephone one year. When they asked whether she wanted small, medium or large, she said "one of each". The price obviously indicated that they'd be roughly the same size as normal hedgehog toys.

But they weren't. Apparently when the box arrived my family were mortified and didn't know where to hide them. They succeeded however, and I knew nothing until I opened the present containing the large one on my birthday. It was a huge laugh, as my mother explained to me how she had managed to accidentally buy such a huge hog. The fact that he was orange (an important colour to me) added to the humour. You can only imagine my further surprise, when 4 days later, I opened the present containing the medium and "small" sized ones for Christmas.
The silver thing underneath them is a 30 cm (1 ft) ruler; they are sitting on an average sized bed pillow.

I named the first one "Normous" (short for E. Normous) the day I got him. To follow the pattern the others are called Tween (for In B Tween) and Nute (for My Nute).
To read read more and see pictures of my other hedgehogs - click on the link below